10:00 AM on the 10th

of May



Be a part of Geocaching History

at the

World Wide Flash Mob Event III

(WWFM III)

Seoul, Korea



A "Flash Mob" is a Gathering of Geocachers. You MUST be present and sign a log sheet DURING this time to claim the event.
This event is part of the WWFM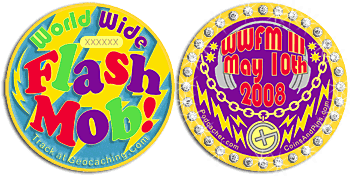 How long? exactly 15 minutes, not one second longer.

When? 10:00 AM on Saturday, May 10th.

Where? Seoul Train Station precisely at the coordinates.
---
AGENDA
09:45 - 09:59: Wait patiently meters away or stroll around the area.

09:59: Make your way to the coordinates. At the coordinates you'll find log sheets . Fill out log sheets and hand them to me.

10:00 - 10:12: Mingle. Share war stories. Brag. Trade swag. Take pictures. Sign the log sheets to qualify your attendance.

10:13: A tiny cacher will pull a log sheet out of a hat and the winner will be awarded with an un-activated WWFM III Event Geocoin (shown above). The winner is also the FTF .

10:14: One minute warning is called "It is now 10:14!". Prep to leave, but don't "look" like your are prepping. (You might want to "secretly" organize where you will re-form after dispersal at a good place to further discover and trade geocoins and travel bugs.)

10:15: Wait for it ... then LEAVE the area (right at 10:15) and meet elsewhere if desired. Remember... you snooze... you lose.
Hungul version of this page is kindly provided by ugandajo at this link.
---
If you plan to attend please use the "Will Attend" option
. Place this event in your "WATCH LIST"
to receive updates. The location is outside at the eastside of the Seoul Train Station. Email any suggestions, they are always welcomed.
---
Time precision is important. Use the clock on your GPS, it's very accurate. A "flash mob" event only lasts 15 minutes and not a second more.
See other scheduled WWFM events.
---
The
,
,
, and
jeeps will be making an appearance to be discovered at that "secret" location.
---
Here are some examples of flash mob events found on You Tube. Enjoy!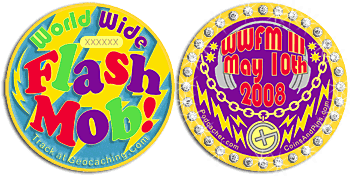 GC19PCZ

이벤트는 Geocache.com에 등록된 MegaCache로

new Yorker님께서 5/10일자로 실행할 Flash Mob (일명 얼음땡 놀이) 입니다.